The Bored Ape Yacht Club spin-off project has gained steam over the last week as trading volume rises on OpenSea.

​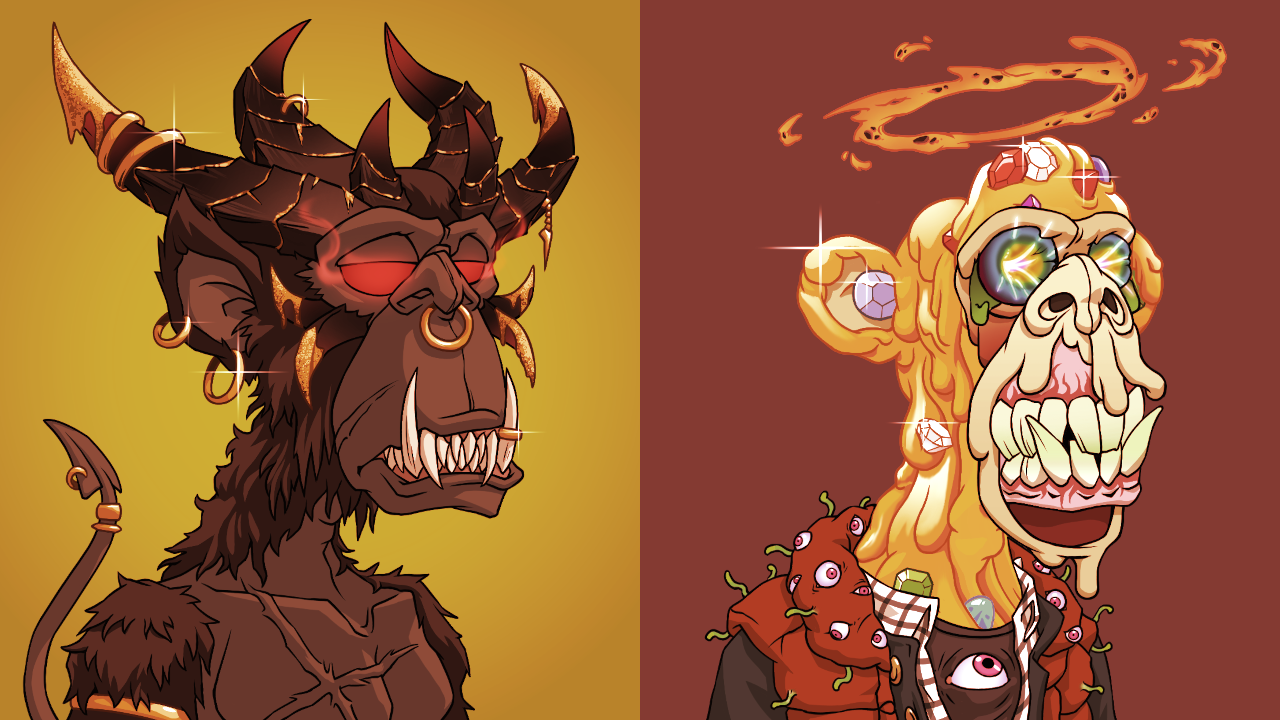 In brief​
Mutant Ape Yacht Club NFT prices are rising, with a nearly 500% increase in trading volume over the last week.
The collection was launched in August, with existing Bored Ape NFT owners able to use serum to mint one Mutant Ape for free.
Following the Bored Ape Yacht Club's recent surge in value and attention, the spin-off Mutant Ape Yacht Club collection is reaping some residual buzz.
The Ethereum-based NFT project has seen a nearly 500% increase in trading volume over the past week, highlighted by a single Mega Mutant Serum NFT selling for $3.6 million worth of ETH.
Secondary market trading volume for the Mutant Ape Yacht Club has topped $70.9 million over the last seven days, according to data from NFT analytics site CryptoSlam, making it the most popular tracked project in that span. That's a nearly 500% increase from the previous seven-day period.
Over that span, the average sale price of a Mutant Ape NFT has jumped from about 8 ETH (over $32,000) on December 21 to over 12.3 ETH (about $50,250) yesterday. Over the last seven days, the price floor—or cost of the cheapest-available NFT—for the project has increased by nearly 40% to 9.9 ETH as of this writing.
The Mutant Ape Yacht Club is an Ethereum NFT project that spans up to 20,000 total avatar images. An NFT acts like a deed of ownership for a digital item, proving the uniqueness and scarcity of things like digital artwork, profile pictures, video clips, and more.
Yuga Labs sold 10,000 Mutant Ape Yacht Club NFTs in August, generating $96 million worth of ETH in just one hour. At the same time, the creators airdropped one free Mutant Serum NFT to the 10,000 existing Bored Ape Yacht Club NFT holders, letting them create a new Mutant Ape NFT image that looks like it was mutated from their original owned character.
The Mutant Serum NFTs came in varying rarity levels, including just eight total Mega Mutant (or M3) Serums. Amid the recent rise in value for Mutant Apes, one of the four remaining unused Mega Mutant Serum NFTs sold for 888 ETH this week, or $3.6 million at the time of purchase.
The Mega Mutant Serum was purchased by Taylor Gerring, a co-founder and former Director of Technology of The Ethereum Foundation. Gerring plans to use the Serum NFT to create his Mutant Ape Yacht Club NFT on a livestream on Tuesday night.
The NFT market has surged across the course of 2021, including nearly $10.7 billion worth of trading volume in Q3, and an estimated $22 billion year-to-date as of earlier this month, per DappRadar.
OpenSea, currently the largest NFT marketplace, has seen rising activity over the course of December. As of this writing, the platform has logged nearly $2.9 billion worth of NFT trading volume so far this month, per data from Dune Analytics. It's on track to break the $3 billion monthly mark for the third time following such results in August and September.
The original Bored Ape Yacht Club collection has risen in value and notoriety in recent months, with celebrities like Jimmy Fallon, Snoop Dogg, and Post Malone buying in, while music producer Timbaland and Universal Music Group are pursuing separate metaverse virtual band projects using Bored Ape avatars.
Last week, the floor price for the Bored Ape Yacht Club briefly surpassed that of CryptoPunks, the influential original Ethereum NFT profile picture project that has been significantly more valuable until late. Although short-lived, the brief price flip reflects recently shifting sentiment around the most popular Ethereum NFT profile picture projects.
The Ethereum price floor for both projects has climbed about 15% over the last week, with Bored Apes now at 60 ETH ($228,700) and CryptoPunks at 66 ETH ($251,500).
source